Workspace
19 Jan 2023

2 Minutes to read
Workspace
Updated on 19 Jan 2023

2 Minutes to read
---
This is the default Liquit Workspace starting point. Here you will find all applications, files and other IT-resources made available to you by the system administrator. In the workspace you are able to:
Start and manage your applications.
Add your own personal apps.
Filter through your apps based on easy to access filters, tags and teams.
Share personal apps, websites and other resources with coworkers.
Define which applications should be started automatically.
View reviews of applications and websites witten by your coworkers.
Report potential issues with an application or website directly to your IT Department.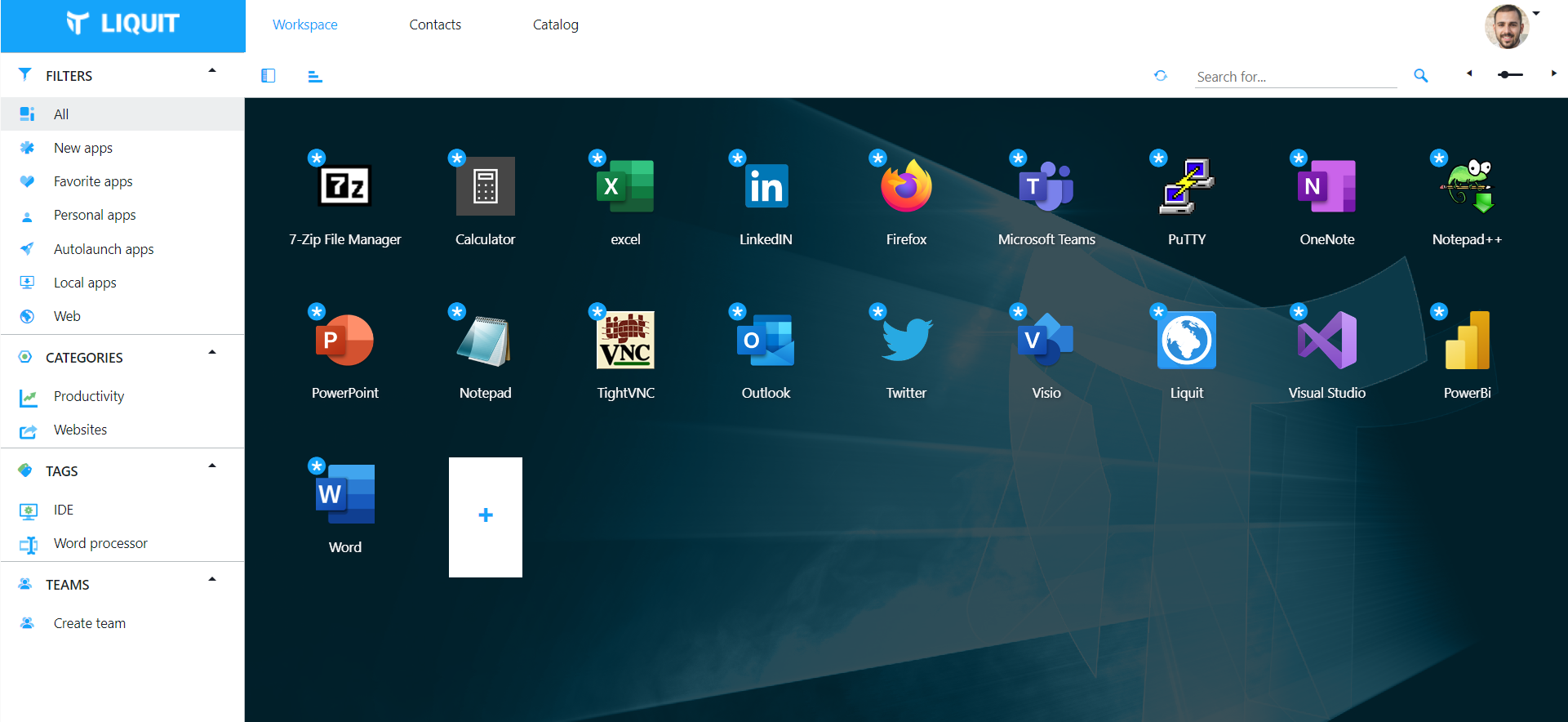 Side Menu overview
Filters
By default the following filters are made available to you in order to easily find applications.
| Name | Applications filtered |
| --- | --- |
| All | All applications |
| New apps | Only all applications you have not yet started |
| Favorite apps | Only applications you have favorited |
| Personal apps | Only personal applications |
| Autolaunch apps | Only applications you have enabled autolaunch for |
| Local apps | Only local applications |
| Web apps | Only applications pointing to a web address |
Categories
When selecting a category in the Side menu, only applications assigned to that category will be shown. Categories are used for a more granular organization of the applications you have access to.
Tags
When selecting a tag in the Side menu, only applications assigned to that tag will be shown.
Tip
Only system administrators can assign Tags and Categories to applications.
Teams
Teams are used to easily share applications with coworkers. Here you will see teams created by the system administrator of which you are a member, but you can also create your own teams.
How to add a personal application
Add your own local application in one of the following ways:
Drag and drop the application into your workspace.
Click on the "+" button.
In the Add link dialog box that is displayed, select:
URL to add a a hyperlink pointing to a website or a link to a file.
Local to add a local application.
Options in the Add link dialog box
General tab
Use local file icon If selected, the icon will be extracted from the application you are adding.
Path The path of the local application or file.
Advanced tab
Window Defines how the application should be started.
Directory Defines the startup directory.
Arguments Defines the startup arguments.
Important
If the Local option is not available to you, please contact your system administrator.
Tip
When setting up a website application, if the browser selected in the configuration is not installed in advance, the default browser will be used.
Context menu
Right-clicking an icon will make several options available to you, depending on whether the app is local or from catalog:
| Icon | Name | Description |
| --- | --- | --- |
| | Favorite | Adds the application to your favorite applications filter in the side menu. |
| | Edit | Opens the Edit link dialog box, where you can edit the details of a personal app. |
| | Autolaunch | Enables Autolaunch for a managed app, and adds it to the Autolaunch filter in the Side menu. |
| | Rename | Enables you to change the display name of the managed app. |
| | Catalog Information | Displays catalog information about the managed app. See Catalog for more details. |
| | Report problem | Opens the Report problem with Liquit help dialog box, where you can report any problem regarding the managed app to your system administrator. |
| | Remove | Allows you to remove the application from Workspace. A managed app will be moved back to the catalog, where a personal app will be permanently deleted. |
---
Was this article helpful?
---
What's Next