Setup Store
28 Nov 2022

1 Minute to read
Setup Store
Updated on 28 Nov 2022

1 Minute to read
---
Share feedback
Thanks for sharing your feedback!
The 'Setup Store' is a kind of 'Application Store' for Windows applications". The 'Setup Store' offers 'Setups as a service', analogue to Microsoft's 'Windows as a service' strategy. From the 'Setup Store' you can easily download most used free available Windows (Win32) application setups and patches to a pre-configured directory on a local drive or on a file share. After a setup has been downloaded, they can easily be configured for enterprise deployment. This white paper has all the details.
Instead of spending time on finding the correct download links for the latest versions of these most common Windows applications, you can now easily download their setups from the 'Setup Store' and build or extend your own software setup catalog. You can sort, search and filter the complete 'Setup Store' based on Manufacturer Name, Product Name, Version Number, Setup Type, Category, Platform, Filename, Language or Date on which the setup has been added to the Setup Store.
Over the years our 'Setup Store' has grown to more than 2500 entries. Every day its database is kept up to date with the latest versions and releases of listed setups.
In our newsletter (you can sign up here) as well as on social media (Twitter, LinkedIn, Facebook) we inform customers and partners about new entries and updates. Some entries are added because of partners and/or customers suggesting new entries, by using the 'Request Setup' feature. Some entries are added, because of the technology partnerships with vendors like Adobe, Microsoft, Micro Focus and VMware.
When you like us to add a new 'Software Title', please feel free to use 'Request Setup' to submit new suggestions.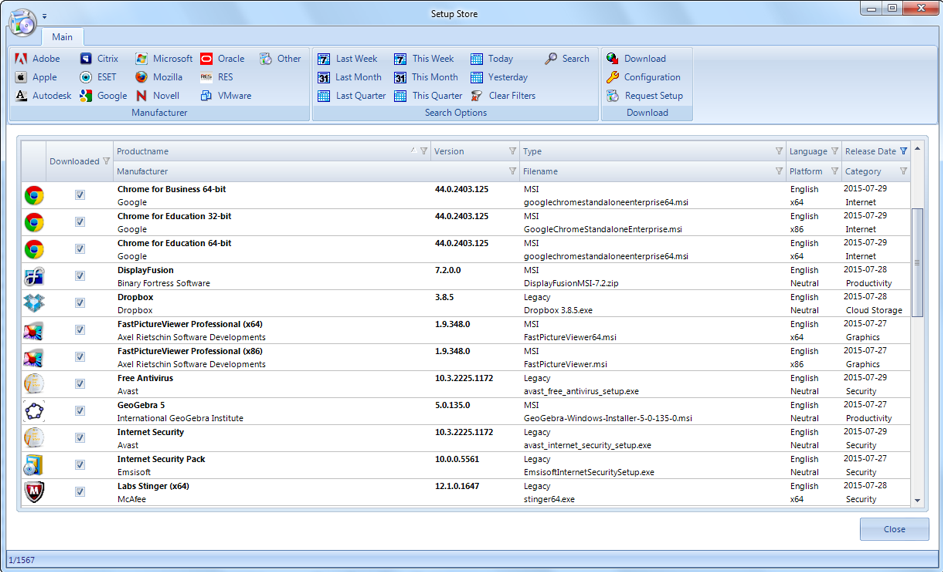 ---
Was this article helpful?
---
What's Next